Monday 7:00am - 3:30pm
Tuesday 7:00am - 3:30pm
*Wednesday 8:20am - 3:30pm
Thursday 7:00am - 3:30pm
*Friday 7:00am - 3:00pm
What would you like to do?
2018 Abraham Lincoln Award Master List
Frequently Asked Questions
Frequently Asked Questions
Q: Do I need my ID to come into the library?
A: If you are visiting the library before/after school, or during the school day, you must scan your ID upon entering. You get one chance a semester to go into the libray without your ID.

Q: Can I listen to music in the library?
A: Yes. As long as you use headphones and the music cannot be heard by anybody else.
Q: How do I become a student worker?
A: Student workers apply at the beginning of each semester. You can volunteer to work with us during your lunch or studyhall. Applications can be found at the check-in counter the first week of each semester. Just fill one out and turn it in to Ms. McGee.
Q: Do student workers get paid?
A: I'm afraid not. But the time you spend working in the library counts as community service. You can log the hours you work for National Honor Society, list your work experience on your resume, and even use Ms. McGee and Mrs. Naes as references for job applications.
Q: How do I join Book Club?
A: Book Club meets about every 6 weeks and you must sign-up for every meeting. Just visit the library and tell us that you would like to be a part of the next Book Club meeting! If you sign-up in a timely manner you should receive a free copy of the book.
Q: When and where does Book Club meet?
A: Book Club meets about every six weeks during lunch in the library conference room - that's the big room with windows behind the front desk.
Q: How do I check out a Kindle?
A: To check out a Kindle you simply need your ID. You can check-out a Kindle for 3 weeks at a time, just like a book.
Q: How do I check out a camera?
A: To check out a digital camera or Flip video camera you need your ID. The standard check-out period is 3 days, but if you need a camera longer for a school project we can check it out to you longer.
Q: How do I download ebooks and audiobooks?
A: Our online ebooks and audiobooks are available through Overdrive. The directions for downloading are different for each device you download to. For directions specific to your ereader, computer, smartphone, or mp3 player, visit the front desk of the library or go to the Overdrive dowload help page.
Snuggle up with a book over break using our new eBook provider! It is super easy to use and is synced with your GCHS library login account for easy login! Stop by the LRC if you need help! Happy reading!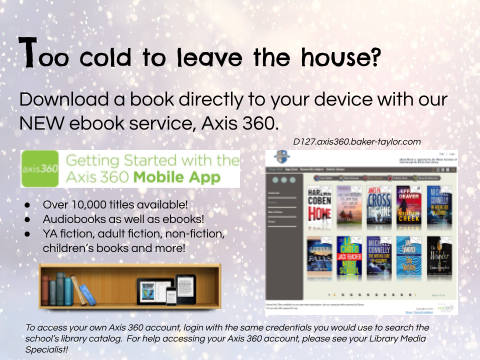 The mission of the library is to ensure that all students and staff are effective users of ideas and information (Information Power: Building Partnerships for Learning, 1998). We accomplish our mission by providing access to print and electronic resources, providing inforation literacy instruction, working with classroom teachers to design and implement curriculum, and assisting individual students with reference questions and recreational reading suggestions.